All about our convenient location
Boaty has a private floating dock in the canal where you start and end your boat rental. It's located in the popular 'De Pijp' district, in the southern Amsterdam city center. We're on Jozef Israëlskade right next to the famous hotel Okura, the tallest building in the area.
For your navigation it's best to use the address of the hotel: Ferdinand Bolstraat 333. Please skip the entrance to the hotel area. Instead, follow the footpath and the bicycle lane along the canal. You will find us outside on our jetty.
If for whatever reason you might not like our location, you could consider renting your boat from our colleagues of Boats4rent Boat Hire. They are located in the western city center next to the Jordaan area. There you will find almost the same boats, rates and level of service.
The most famous attractions in the southern city center are within walking distance of our jetty. It's about a 15 minute stroll from the Museum Quarter, Albert Cuyp Market or Heineken Experience. And from metro station 'De Pijp' it's only a 5-minute walk.
From anywhere in Amsterdam you can cycle to Boaty. From Central Station it's an easy 20-minute cycle tour to Boaty. It's almost a straight line to the south. Just look out for the tricky tram rails!
In general, a regular cab or an Uber is the quickest and easiest way to get to us. If you split the cost, the price comes close to that of public transport. Every taxi driver in Amsterdam knows our immediate neighbour: Hotel Okura at Ferdinand Bolstraat 333.
Metro station 'De Pijp' of the very fast metro 52 (Noord-Zuidlijn) is 5 minutes from Boaty by foot. Tram line 12 stops at Scheldestraat (1 min. walk), tram line 3 at Ceintuurbaan (5 min. walk) and tram line 4 at Amstelkade (10 min. walk). The RAI train station is 20 minutes by foot.
Take exit number 109 from the southern A10 beltway. In a few minutes you will arrive opposite our dock at Amstelkade 130-150, where you can park for €4,50 per hour. Flowparking at Gelrestraat 2 (15 min. walk) has a daily rate of €25,-.
A relaxed Boaty trip is the perfect way to start exploring Amsterdam. And a good way to fight your jetlag. A taxi will take you from Schiphol airport to Boaty in about 20 minutes. Alternatively, catch a train to Amsterdam RAI station (10 min.) and then take a 20-minute walk.
The most beautiful Amsterdam canal tours
During a 3 or 4 hour time slot you can make a beautiful Amsterdam canal tour, combining the Amstel river with some of the finest canals of the World Heritage Area. Highly recommended is a counter-clockwise tour, starting towards and on the Amstel river. From there you can turn left and make a loop on some of the main canals of the World Heritage Area. Alternatively, you could turn right into the more adventurous eastern city center. We recommend taking another way back to Boaty, via the magnificent Rijksmuseum and the small red light district on Ruysdaelkade. We dedicated a few specific pages to more detailed descriptions of our recommended routes. Check them out and let the fun begin!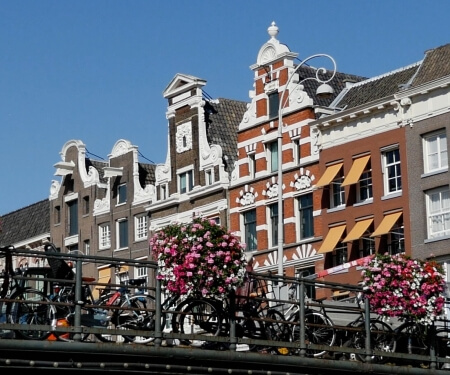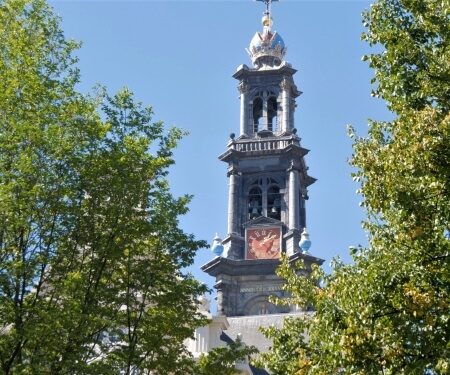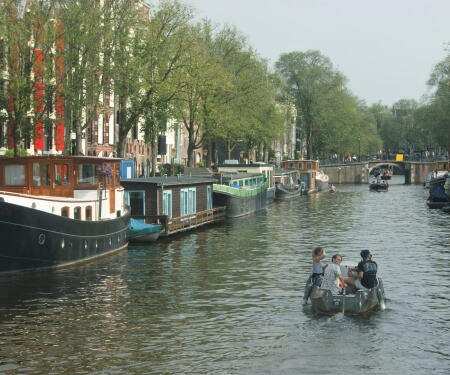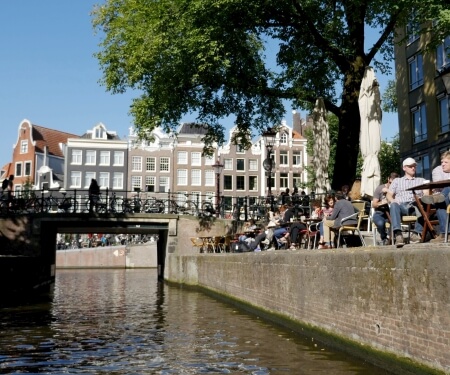 This is the cultural heart of the city, surrounded by the iconic Rijksmuseum, Van Gogh Museum, Stedelijk Museum and Concertgebouw. Popular outdoor hangout spots are the pond in front of the Rijksmuseum and the large scale central lawn.
This former brewery where the old mr. Heineken actually started his business in 1867 has been turned into a popular 'experience'. In a lively and entertaining way you can find out all about this premium global beer brand. Don't miss out on the 'product confrontation' at the end.
The largest daily open air market in Europe is popular with locals and tourists alike. It's always worth a visit for a tasty snack. Genuine Dutch treats include 'verse haring' (fermented fish) and 'stroopwafels' (sirup waffles). Furthermore, expect lots of fresh fruit and vegetables, cheeses and nuts, clothing and household items.
'De Pijp' is a lively, youthful and diverse neighbourhood, perfect for a morning or afternoon stroll. The narrow streets and atmospheric squares are packed with restaurants, bars, outdoor terraces and unique shops.  And somewhere in the middle there's the small yet charming Sarphatipark.
Recommended nearby bars and restaurants
Troost is a sympathetic local brewery, just a few minutes from Boaty by foot. They have a wide range of original home-brewed beers and matching pub food. You can enjoy them inside next to the brewing kettles or outside on the terrace.
Gourmets will definitely appreciate the four restaurants of our neighbouring hotel Okura. The Serre Brasserie has a 'Bib Gourmand' classification by Michelin and a relaxed outdoor terrace. One of Okura's two top class Japanese restaurants even has a true Michelin star. And top floor Ciel Bleu is top of the bill with even two Michelin stars. Make sure to check the limit of your card before you go there.
This charming nearby square has a Mediterranean vibe in summer. Its relatively hidden location and its small size have protected it from mass tourism. Several nice bars and restaurants have their terraces under the large trees.
Alternative boat hire in the western city center: Boats4rent
In case you don't fancy starting and finishing your boat rental at our dock in the southern city center, you could go for our colleagues Boats4rent Boat Hire. Their boats, service and terms are almost the same as ours. But their location is on the western side of the city center, right next to the Jordaan area.