Rent a boat for the Gay Pride
Why would you rent a boat for the Gay Pride?
The Canal Parade on the first Saturday of August is the highlight of the annual Gay Pride festival. The parade takes place in the afternoon and follows a fixed route on the Amsterdam canals and the Amstel river.
An immense crowd comes to join the party and to admire the 80 festively decorated theme boats and their celebrating crew. The very best up and close experience can be had from your own boat parked along the route. However, the organization of the Gay Pride only allows a limited number of spectator boats. If you rent a boat from us, the entree ticket linked to a specific place along the route will be included.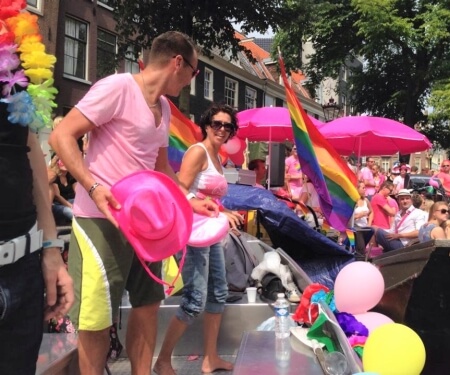 How to rent your boat for the annual Gay Pride on the Amsterdam canals?
Only full day rentals
For the Gay Pride you can only rent your boat for the entire day. The reason for that is that you have to find your parking spot well before the start of the parade. That's why you have to pick up your boat in time: anytime between 7.30 and 9:45 AM. It's fine if one or two of your crew pick up the boat and the rest of your crew gets on board later on. You can return your boat after the parade, anytime between 5 and 7 PM.
The rate for the Gay Pride
The full day rental rate for the Gay Pride is € 299 per boat, including the necessary permit worth € 92,50. This is the best Gay Pride boat rental deal you will find in Amsterdam.
More info and reservations
For more information about renting a boat for the Gay Pride please send an email to info@boaty.nl. You can also book online right away. Please select the first Saturday of August on the calendar. Since the Gay Pride is always fully booked well in advance, we recommend to book early.