Why would you rent a boat on King's Day?
King's Day is the party of the year in the Netherlands. And Amsterdam is the party capital. Hundreds of thousands of locals and visitors mingle to celebrate this day on the streets, in the parks, in bars and in clubs. And of course in many, many boats on the canals. To be on one of these boats is a privilege. The atmosphere is really cheerful. And you can enjoy all the music, dancing, shows, stalls, snacks and drinks on and along the canals without having to wander among the crowds for hours.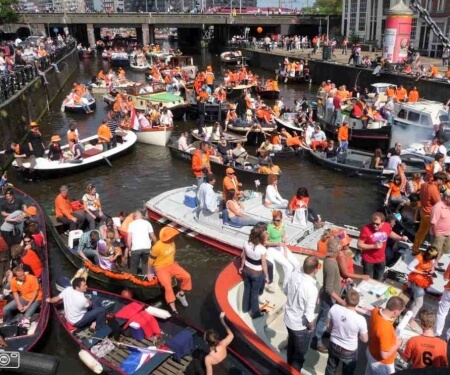 How to rent your boat for Kingsday on the Amsterdam canals?
Only full day rentals on Kingsday
We rent our boats on Kingsday only for the full day. You can pick up your boat anytime between 9 and 11.30 AM and return it anytime between 5 and 7 PM.
The rate on Kingsday
The full day rental rate on King's Day is euro 299,-. This is the best rate you will find in Amsterdam.
More information and reservations
For any further information on renting a boat on Kingsday please drop us an email at info@boaty.nl. You can also book online. In order to do so please select 27 April on the calendar. Early booking is recommended as Kingsday is always fully booked well in advance.