Boat rental Amsterdam
An Amsterdam boat rental is the very best way to explore and enjoy the Amsterdam canals! On a private boat with just you and your friends or family. You have the freedom to captain your own boat, determining both the duration (3 or 4 hours) and the destination. And along the way it's up to you where to stop in order to get some provisions, to go to the toilet or to take pictures.
Our self drive boat rental has a fleet of electric canal boats. They're zero-emission, silent and easy to operate without a license. So invite some people, relax and enjoy your boat rental on the Amsterdam canals!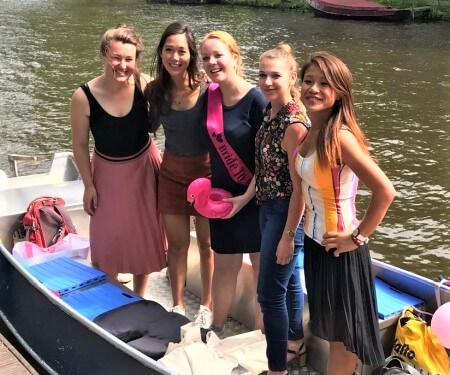 Boat rental the easy way
Your boat rental in Amsterdam should be easy and relaxed, right? So it is at Boaty:
it's easy to book. For a same day boat rental, just call us. Or book online for any other day;

upon arrival a clean boat is waiting for you. Before you sail off, you'll receive a clear and personal instruction;

our boats are very easy to drive yourself. Even if you don't have any license or experience

.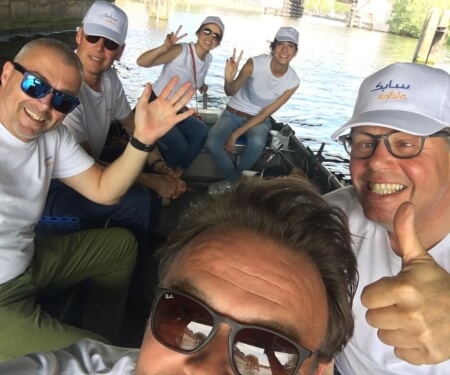 Cheapest boat rental in Amsterdam
A private Amsterdam boat rental is not just for the rich and famous. In fact, it's very affordable. Especially, if you rent at Boaty and share the costs.
Our boat rental rates start at just 89,- for a three hour trip, with a maximum of six people on board. That's the cheapest boat rental deal you will find in Amsterdam!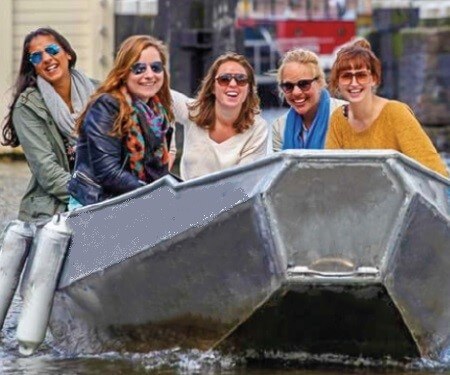 Boat rental with top rated personal service
Are you not familiar in Amsterdam, or a 'boat rental virgin'? No problem, we're here to help!
Before departure we will explain everything you need to know. You will also receive a customized canal map with suggested routes, foam seats and life vests.
Over the years nearly a thousand guests have rated their canal boat rental experience. Our average scores on Tripadvisor, Google, Facebook and Yelp are well above 4,5 stars (very good to excellent).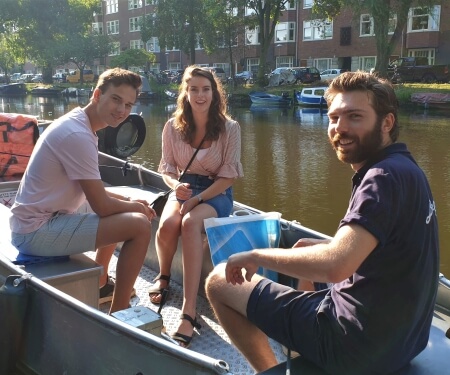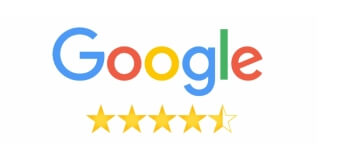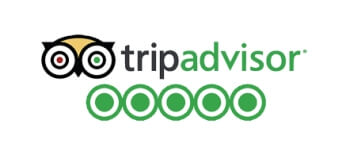 Flexible (cancellation) conditions at Boaty
At Boaty we offer a cancellation policy where you can cancel free of charge up to 24 hours before the trip and receive a full refund. We also understand that the weather can be unpredictable at times. So, in case of bad weather (such as dense fog, continuous rain, thunder or a strong storm) you can cancel even on the same day and get a full refund too.
Note: During major events such as King's Day and Gay Pride, different rules may apply due to the high demand for boats. Please contact us for this.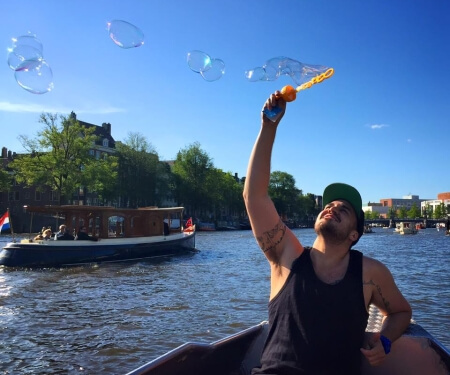 Electric boat rental, max. 6 people per boat
We are a 100% electric boat rental company. Therefore, our boats are zero emission and silent. And we charge them with renewable energy.
The maximum capacity is 6 people (including the 'skipper').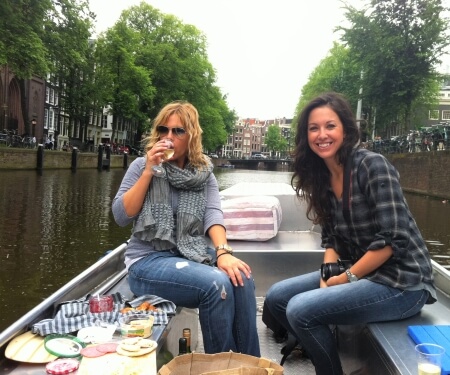 Where to go from our self drive boat rental?
Our self drive boats are ideal to explore the Amsterdam city center. All main canals -such as Prinsengracht, Keizersgracht, Herengracht and Singel- are accessible with our boats. And so are the canals in the Jordaan, the eastern city center, the majestic Amstel river and the fascinating Oosterdok.
The large map that's included in your boat rental contains three suggested routes. If you follow one of these, you'll be sure to see many highlights. If you rather prefer to go your own way, that's also fine. Only the IJ, Kostverlorenvaart, Nieuwe Herengracht and Nieuwe Meer are strictly forbidden for safety reasons.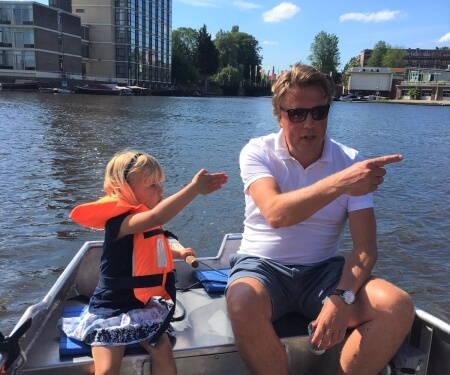 Convenient boat rental location
Your canal boat rental starts and ends at our private dock in 'De Pijp'. We're easy to get to by bike, public transport or car. The neighbourhood surrounding our boat rental is very attractive and popular for its lively atmosphere. It has plenty of nice shops, bars and restaurants to visit before or after your boat rental.
A 3 or 4 hour canal boat rental allows for a great city center tour. We recommend starting your tour on a nice part of the Amstel river, to continue exploring some of the finest canals in the famous World Heritage Area and to return to our boat rental via the impressive Rijksmuseum. Alternatively, you could also explore the eastern city center, or go out of town on the Amstel river.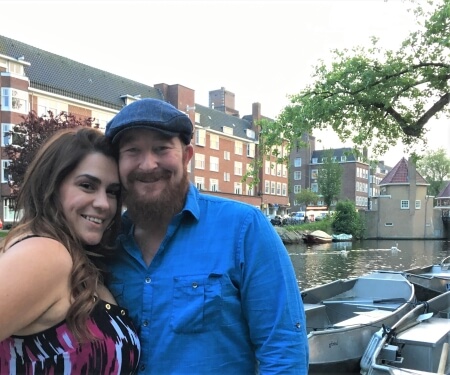 What to bring for your Amsterdam boat hire?
Pick your 'crew'. Who will be the lucky ones: your friends, your family, your (first) date? Or some co-workers, just the fun ones?
Nice food and drinks. It's best to go shopping before picking up your boat, so you can fully enjoy your rental time on the boat.
Appropriate clothing. You don't need to look like a professional captain. But we do recommend having a good look at the weather forecast. So you know what to wear, varying from just swimwear and sunglasses to a warm jacket with a hat and gloves.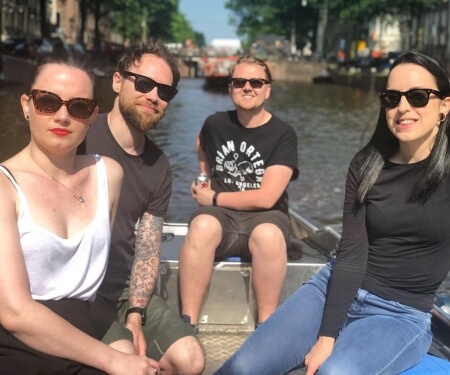 Company boat rentals Amsterdam (events and staff outings)
Taking our boats out on the Amsterdam canals is a brilliant activity with your co-workers or business partners. The maximum group size of six people per boat is ideal for mingling in an informal setting. If you want to add some 'team-building', you should go for our 'Canal Cruise Competition'.
During a beautiful canal tour all crews have to deal with not-so-obvious questions about Amsterdam and its canals, and some rather original photo assignments.
If you need any assistance organising the rest of your day, we'll be more than happy to advise. Free of charge and without any obligations.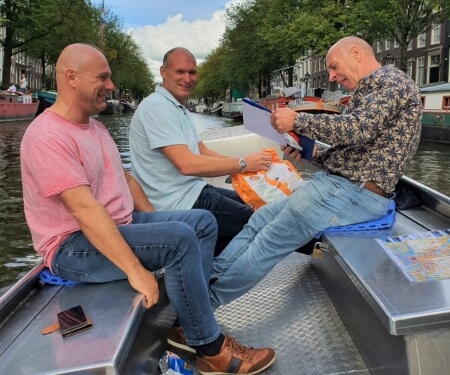 King's Day and Gay Pride boat rental
A King's Day boat rental is a flabbergasting experience: lots of orange boats and music and party everywhere. Although you're likely to get stuck every now and then, you will still be able to see a lot, without having to stroll among the crowds for hours.
The annual Gay Pride is even more colourful, outspoken and spectacular. Your Gaypride boat rental includes the obligatory entrance and parking license. The best way to experience the entire parade up close!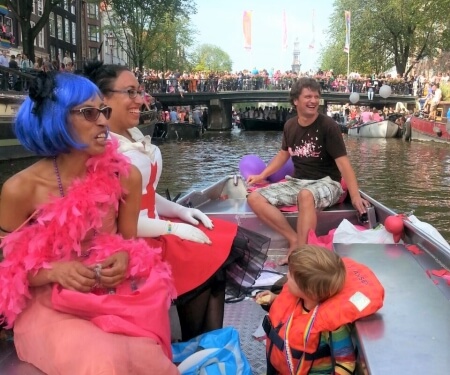 Win a free boat rental!
Only one thing beats our most economic rates in Amsterdam: a completely free boat rental. You might win one, if you participate in our photo contest. So don't forget to take some nice  pictures of your canal boat rental and tag Boaty on your Instagram or Facebook.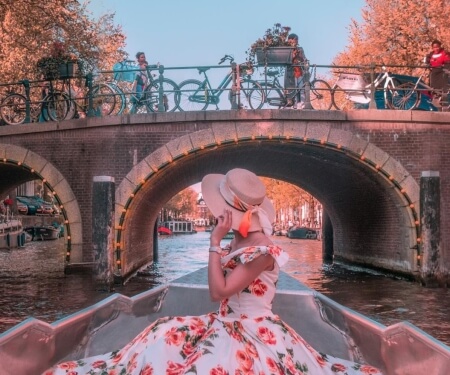 About Boaty Amsterdam Boat Rental: affordable, personal, easy
Since 2008, ten thousands of locals and visitors have enjoyed their Amsterdam boat rental with Boaty. This is what our boat rental stands for:
affordable: the best rates in Amsterdam;
personal: with our friendly top rated service;
easy for you: easy to book, easy to use.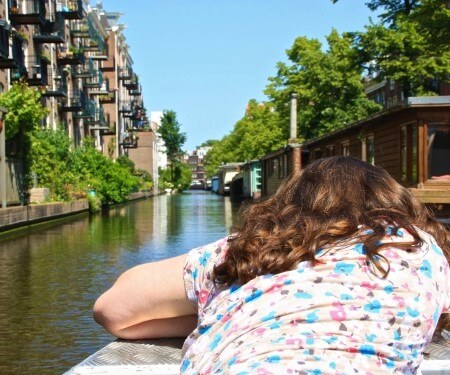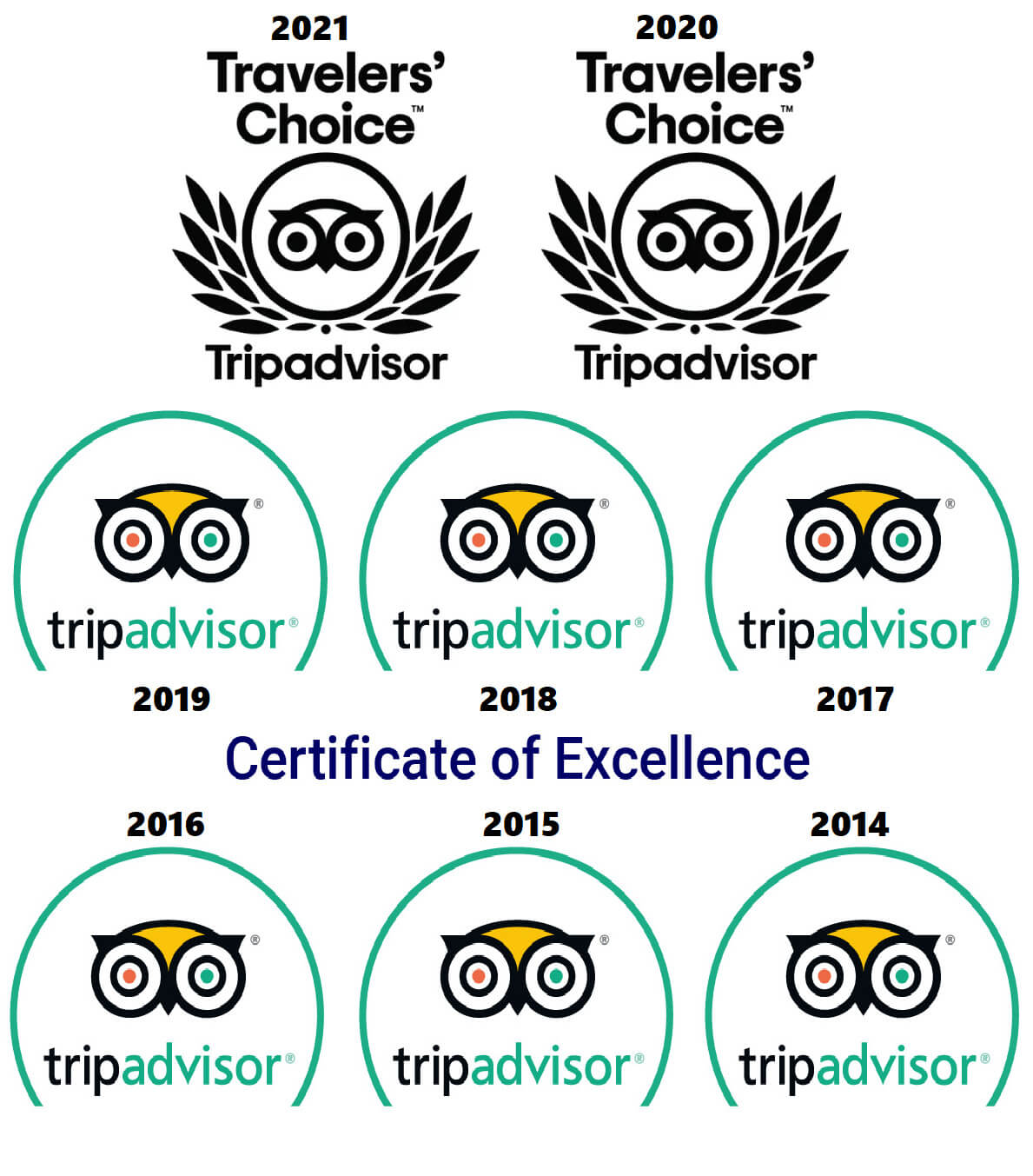 Alternative boat rental: Boats4rent
There are only two excuses for not using our boat rental. Firstly, if we're fully booked, which happens regularly during weekends and holidays. Secondly, if you prefer to start and end your boat rental at another location. In both cases we recommend Boats4rent Boat Hire. Their fleet, rates and service are very similar to ours, at a different location in the western city center.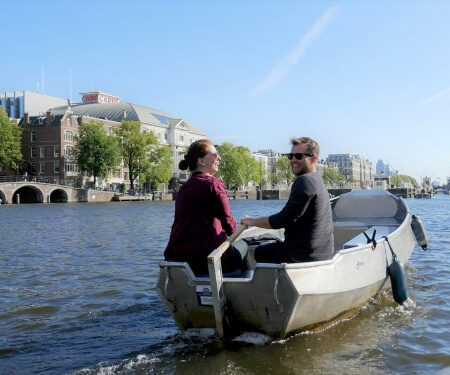 Sail today?
Call +3120 261 70 61