How to rent a boat in Amsterdam?
Renting a boat in Amsterdam is an awesome experience, for some litterally once or twice in a lifetime. Ideally, it should be easy, relaxing, affordable, adventurous, enjoyable and safe. In order to make the very best of it, check out our Amsterdam boat rental guide below: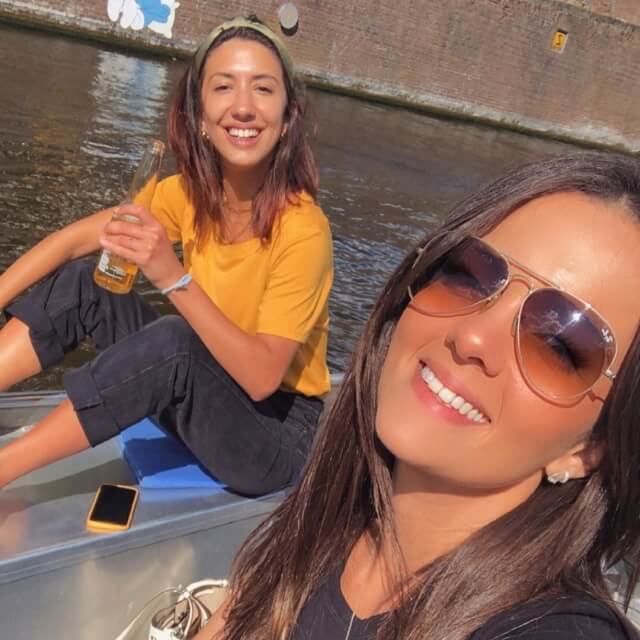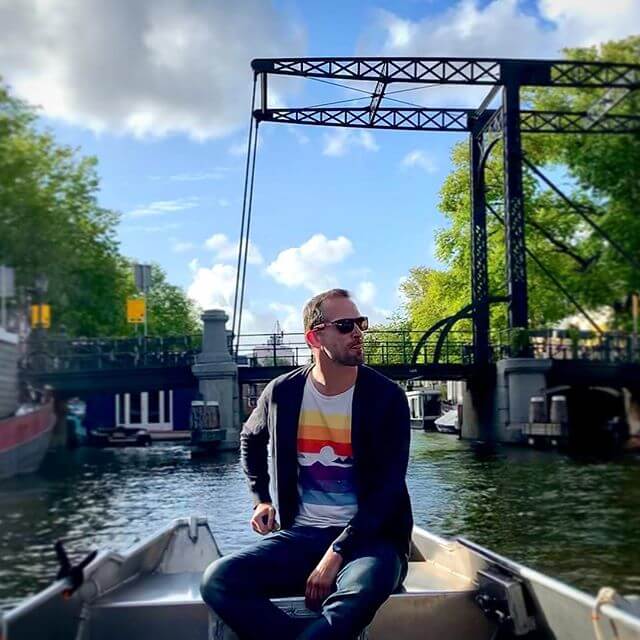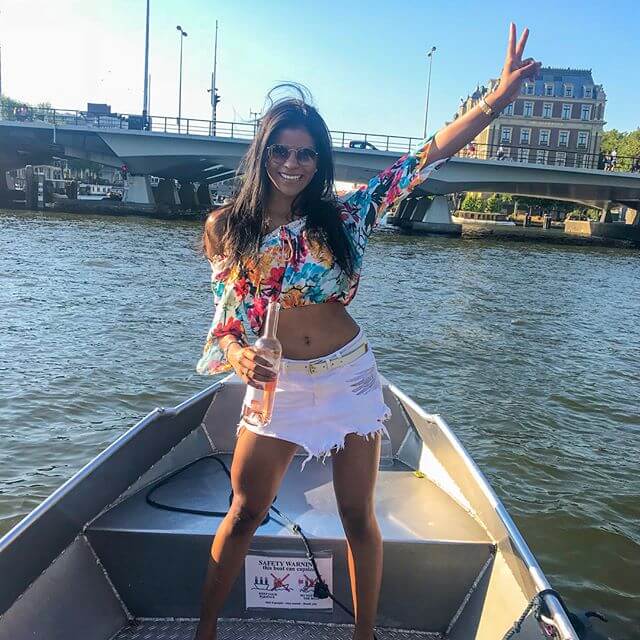 7 reasons to rent a boat in Amsterdam
Before you will find out how to rent a boat in Amsterdam, let's start by answering the one million dollar question: why would you rent a boat in Amsterdam in the first place?
The answer is plain and simple: renting a boat is the best outdoor thing to do in Amsterdam!
In order to prove that this is not a hollow phrase, here's a list of reasons why you should definitely rent a boat in Amsterdam:

You will get the very best perspective on the stunning canal scenery that makes Amsterdam unique. No, we're not talking skirts on bridges. We're talking -among others- the most beautiful 17th and 18th century architecture in the world;
If you rent a boat, you will get places where no other means of transport will take you

. How else would you be able to kiss romantically under the famous skinny bridge for good fortune?

You can rent a boat in order to explore a large part of the city centre

without the hard work, the blisters and the sour muscles of hours of walking or cycling;

You can rent a boat to escape

from the crowds and the hectic of the city centre streets. The sun on your face, the breeze in your hair and the water all around will make you

feel free and part of nature

, even on a city centre canal;

The space, the quiet atmosphere and the slow pace on the canals combined with the sounds of rippling water and the gently humming electric engine guarantees instant relaxation;
Renting a boat for just you and your beloved one(s)

is

pure quality time

. Yoga-hipsters may call it mindful. We call it forced therapy. No way to escape;

There's no better way to

impress your partner, lover or date than renting a private boat and showing off your navigation skills. You won't believe how many people proposed during a trip on one of our boats. With a 100% success rate (as far as we know).

We hope by now you're convinced that renting a boat is the best outdoor activity in Amsterdam. No problem if not: there's nothing wrong with staying at home and watching the grass grow. That's very mindful too.
What type of boat to rent in Amsterdam?
Basically, there a are two types of boats for rent in Amsterdam: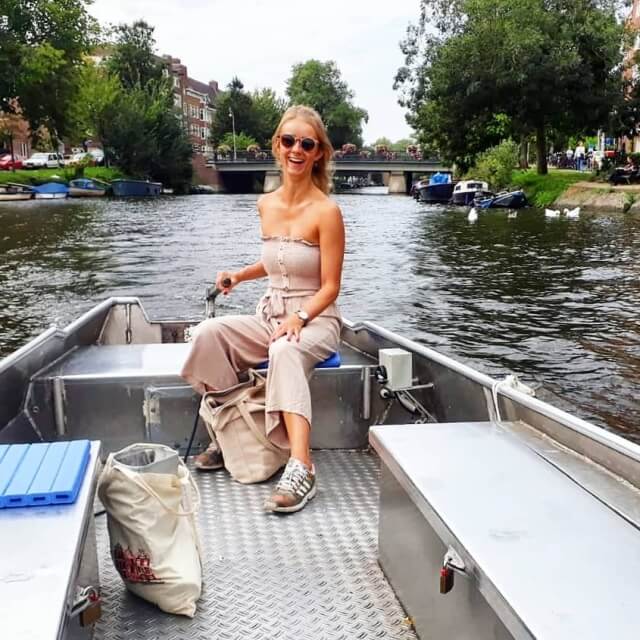 1. You can rent a boat to drive yourself. If this is definitely what you're looking for, or something you're seriously considering: keep on reading.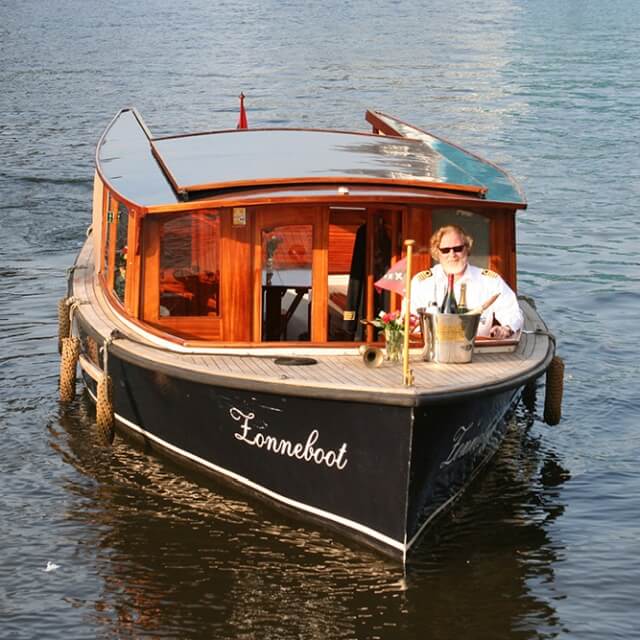 2. You can rent a boat with a skipper. If it's a skippered boat rental you're after, we recommend taking a look at the Amsterdam Canal Tour Selector.
Can I rent a boat in Amsterdam without a boating licence?

Yes, in Amsterdam you may rent a small boat and drive it yourself without a license. We agree it almost sounds too good to be true. But it is true, really. And for a very good reason: as long as you respect and stick to some basic rules it's really easy and safe to sail the canals with a small boat.
Over more than a decade ten thousands of new-born Amsterdam canal skippers have found their way back to our boat rental and survived their Amsterdam canal adventure without any damage. That is after we taught them:

how to fight the local pirates;
how to distract the lurking freshwater crocodiles;
how to avoid the shark infested canals;
and how to stay clear of our local Bermuda triangles.
How to find out about the basic rules on the Amsterdam canals? If you feel like doing some homework, have a look further down this article. If you prefer to evade any kind of homework, that's also fine with us. Then we'll teach you the hard way at our dock, before you start your rental.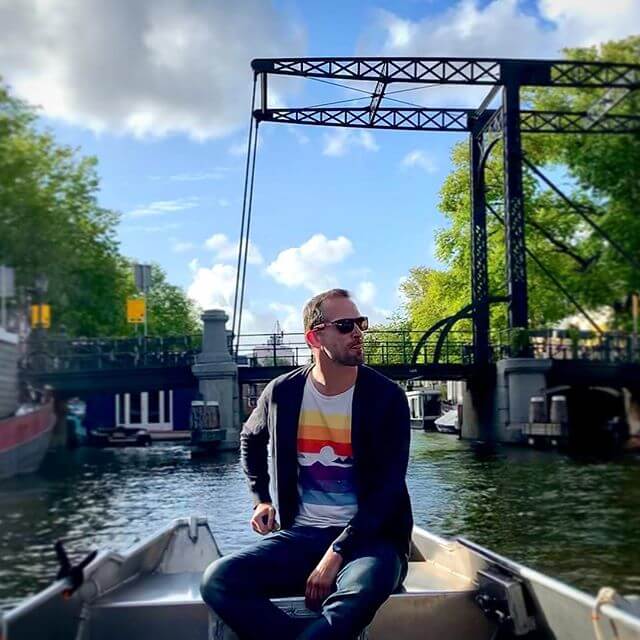 What do I need when renting a boat?
If there's one thing you should bring on a boat on the Amsterdam canals, it's plain common sense. If you lack it, bring someone else that has some, make him or her your skipper and obey him or her at all times;
Be prepared to pass the formalities required by the city of Amsterdam and our insurance. That's a piece of cake and a matter of two minutes if you (or someone else of your crew) bring a valid ID and a credit card. If not, we will have to keep your husband or wife as a deposit, take your finger prints and inject a tracking and tracing chip under your skin before departure;
As we've learned over the centuries as a seafaring nation, two things to avoid on your boat at all costs are mutiny and scurvy. Nowadays, it's quite easy to prevent both from happening: just make sure to stock up enough food and drinks to keep your crew satisfied;
Furthermore, dress properly for the occasion and the weather forecast. High heels are not the best boating shoes. And just a t-shirt won't do on a cold and windy day. Unless you're from the UK and used to even crappier weather of course. And if you're in doubt whether or not to bring an umbrella: better safe than sorry;
Last but not least: remember that reflecting sun rays from both the water and your boat turn the latter into a turbo sun tanning device. So bring sun cream, sunglasses and/or a hat, unless it's your goal to turn red like a lobster in a few hours' time.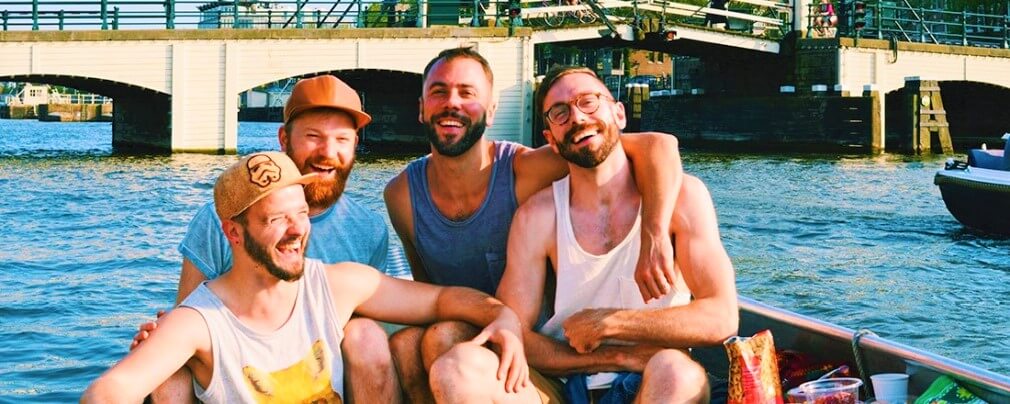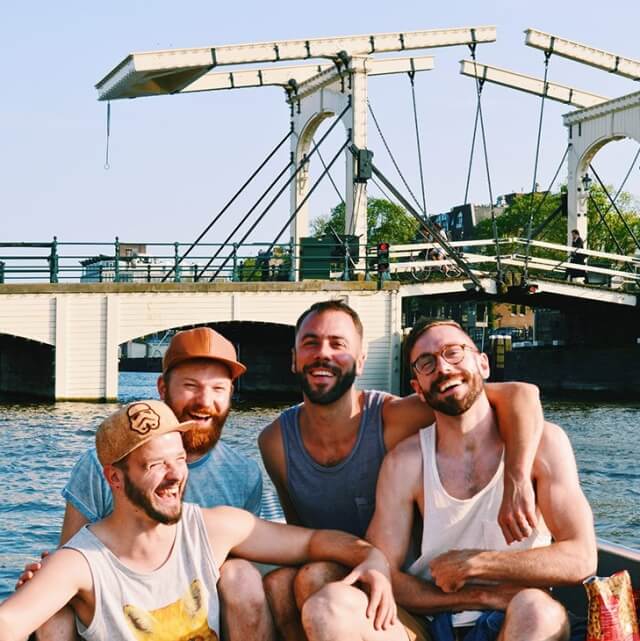 How much is it to rent a boat in Amsterdam?
Renting a private boat in Amsterdam sounds like a rather exclusive and expensive experience. And so it can be. You could easily spend many of hundred euros enjoying premium champagne and haute cuisine in a beautifully restored antique boat with a professional skipper.
That's definitely very tempting after having robbed the bank, but not our cup of beer. We like the concept of BYO (bring your own), so you can spend, eat and drink whatever you like. As long as your skipper remains sober and the rest of the crew acts well-behaved.
If you don't want to blow your budget either on the boat rental itself, you're also very well off at Boaty. That's because we're the most affordable boat rental in Amsterdam. Your boat rental rate can be as low as 89 euro (+ 1,50 local tour tax p.p.), even during the weekend.
Mind you: this is our best (morning) rate per boat. For a 3 hour tour. And up to 6 people on board. What are you still waiting for?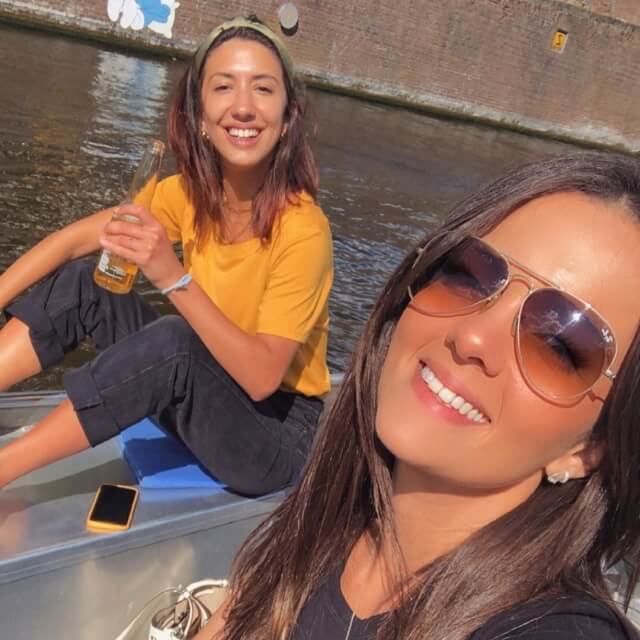 What's included in your boat rental?
The following is included when you rent your boat with us:
a thorough

personal instruction

of the boat, the rules and possible route by our friendly service crew

a large custom made laminated map containing route suggestions, highlights on the way, water front terraces, and so on
foam seats to protect your delicate bum
full batteries that make pit stops redundant
adult, children and toddler life vests, so you can safely throw any annoying crewmembers overboard
and finally, the boring but costly stuff like insurance

and

VAT

.
The only additional charge is a tour tax of 1,50 per person. This is a local tax that we have to collect for the municipality. Consider this your contribution to the urgently needed maintenance and renovation of our beautiful canals and bridges, that suffer severely from high age and heavy traffic.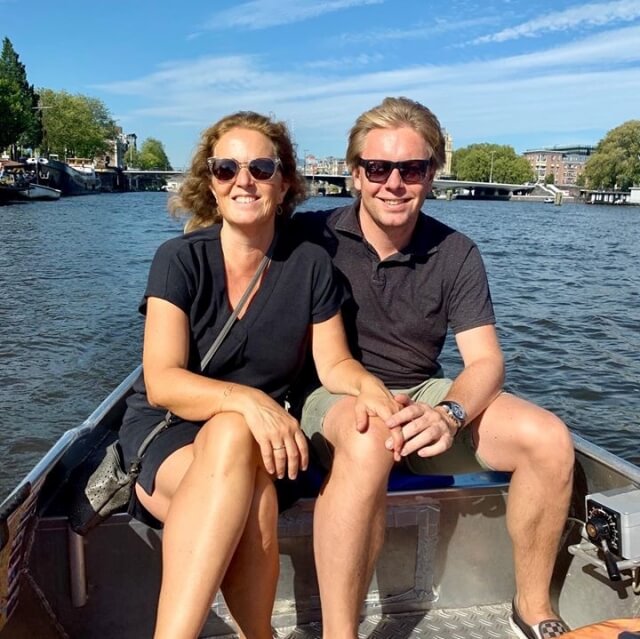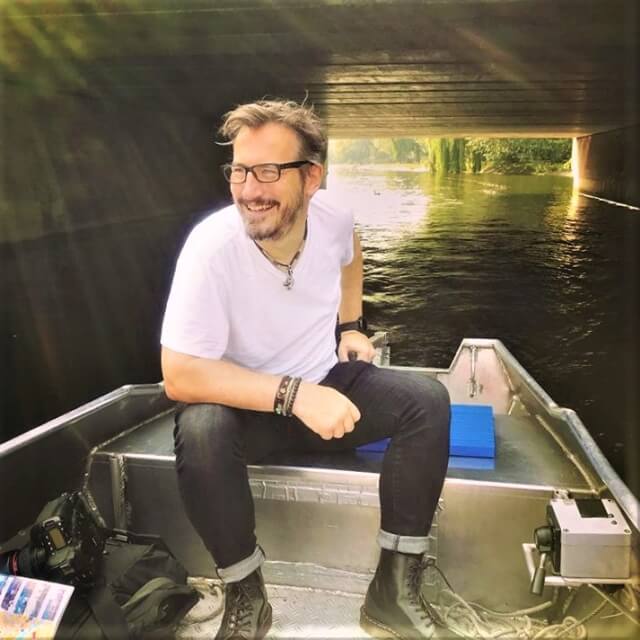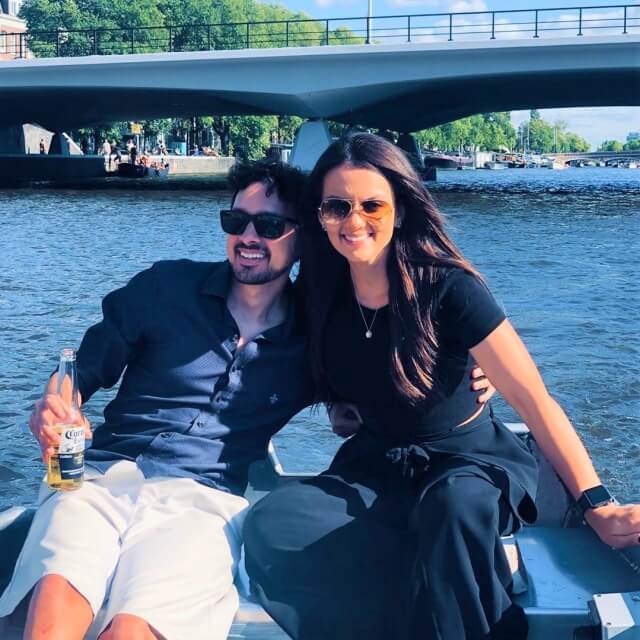 When to rent a boat in Amsterdam?
Despite the intrusive and ever advancing 24/7 economy, boat rental in Amsterdam remains both seasonal and restricted in terms of opening hours. So when can you rent a boat? And what is the best time to do so? Of course the answer to that depends on your own availability and preferences. However, here's a few general guidelines:
Time of year to rent a boat in Amsterdam
Let's start with the time of the year. In order to enjoy your boat rental it doesn't have to be sunny and 25 degrees. But as you're sitting still for a couple of hours, it definitely helps if you're not freezing, literally being blown away or getting your underwear soaked by typical Dutch rain showers. That's why our boat rental -and its owners- hibernate during winter.
Like mother nature our boat rental starts to flourish again from halfway March. From then on until half October you're very welcome to rent a boat. The general rule is that during this boating season we're open every day, weather allowing of course: if the weather looks like winter, we might behave like winter and decide to go back in hibernation. So before you decide to come our way, please always book online or at least contact us in order to make sure we're open.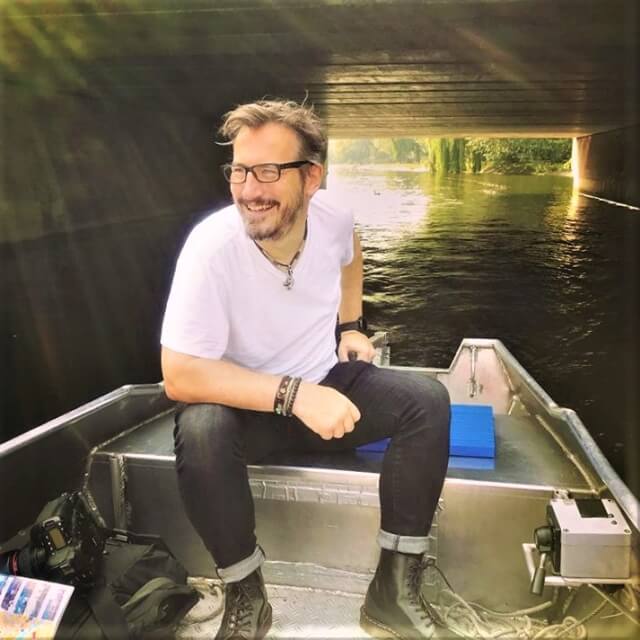 What day to rent a boat?
Unless you convince your boss or co-workers that renting a boat is a great idea for an informal business meeting or a company event -both of which we can only confirm and endorse- you will probably have to rent a boat during the weekend or your holidays.
As you're not the only wage slave or self-employed person chained to office hours, the Amsterdam canals in general and our boat rental in specific tend to be busiest during the weekends and holidays. Don't be scared though by the word busy, when it comes to the Amsterdam canals. It's nowhere near rush hour on metropolitan roads. Apart from Kingsday and the Gaypride, we are still waiting to witness the first actual traffic jam on the canals.
If it's liveliness you're after, you'll be fine sticking with the weekend or a public holiday. Just go with the flow. And make sure to book your boat in advance! (link)
On the other hand, avoiding the crowds is fairly easy: pick any regular weekday that's not a public holiday. Or part of a scarce heat wave, during which the Amsterdam locals go out onto the canals en masse. If you choose wisely -in this case anti cyclic- you might literally have the Amsterdam canals to yourselves. As if we closed them for everyone except a few very, very important people: you and your crew.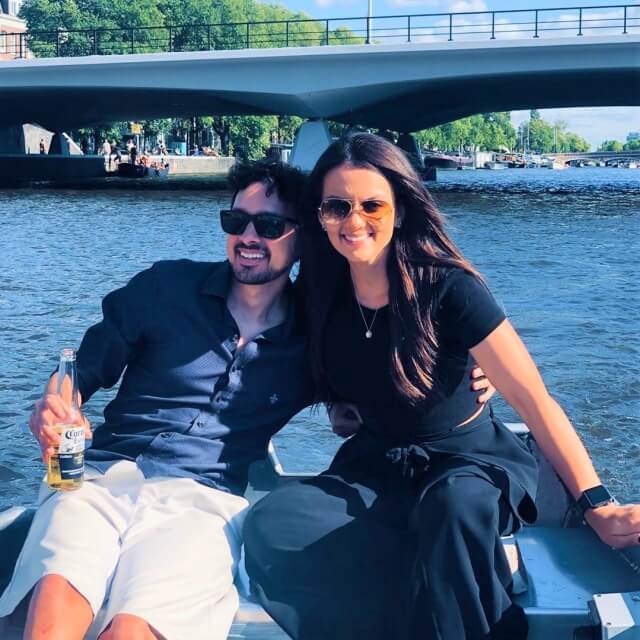 What time of day to rent a boat?
Contrary to the belief of some visitors -especially those arriving at Schiphol Airport or the Central train station and those staying in (over)crowded touristy areas like the Red Light District- most Amsterdam hoods are mainly residential areas. With inhabitants that have regular lives and regular jobs and people that want to sleep at night.
Believe it or not: even along the most famous and lively canals people value their night rest. That's why the city council has legally forbidden late night boat rentals. So no chance of a Tarantino-like "From Dusk till Dawn" adventure on the Amsterdam canals.
Morning people are very welcome to rent their boat anytime from 9.00 AM onwards. Mostly, by then we've done a fair bit of cleaning and preparing our boats, so chances are likely we've gotten rid of our morning mood.
When it comes to Amsterdam boat rental the early bird catches actually catches a couple of worms:
Firstly, starting early will save you some hard earned cash as you profit from our cheapest morning rates;
Secondly, you will get the chance to see Amsterdam as a very charming sleepy town, slowly waking up and getting alive again. For this reason we highly recommend going for a Sunday morning boat ride;
And last but not least, on summer days a morning boat rental is a great way to start your day while avoiding the hottest afternoon sun.
Towards the end of your morning boat rental you will see more and more boats on the canals. That's because on average most people go for an early or late afternoon boat tour, bringing lunch or snacks and drinks on board. Especially Saturday and Sunday afternoons tend to get fully booked. So book well in advance if this is also your favourite (or only possible) time to go out.
Night owls can rent their boat for a late afternoon or evening and have to return their boat at latest half an hour before sun set. So our closing time varies from 6.30 PM at the very beginning and the very end of the boating season until 9.30 PM during those long summer days.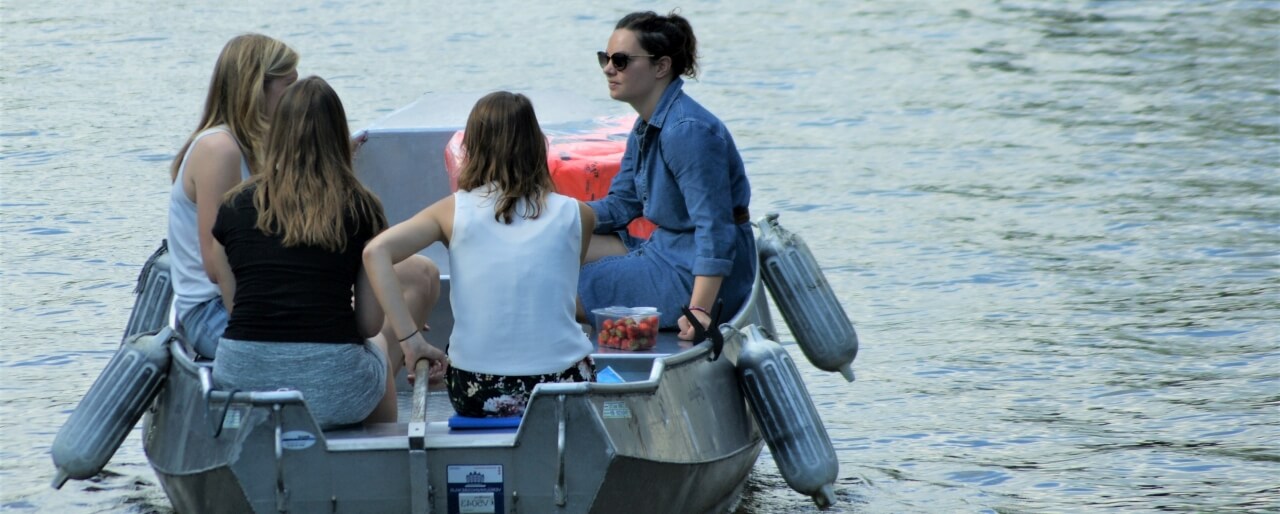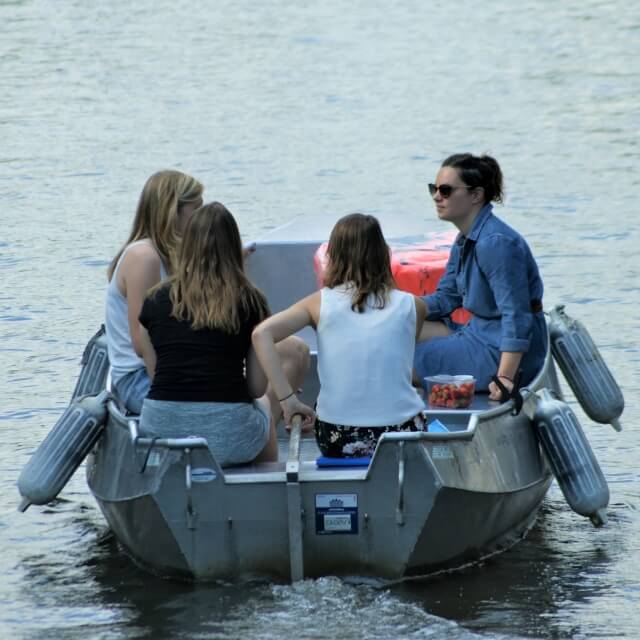 How long to rent a boat for?
Time flies when you're having fun. Therefore, we don't do short rentals. If you decide to rent a boat in Amsterdam, than take your time for it and make sure it's worthwhile!
From our own experience and from the feedback of our guest we can assure you that three hours is a great time span for a relaxing boat trip combining some of the most beautiful canals and the nicest part of the Amstel river.
If you want to take a break that exceeds the usual bathroom stop, or if you're an advanced sightseer or a hard core photographer, you might want to go for the four hour option.
Finally, there's the boating equivalent of the iconic Ironman triathlon: renting a boat for a full day (maximum 10 hours). Beware of the risks of serious side effects, like growing a captain's beard on the way.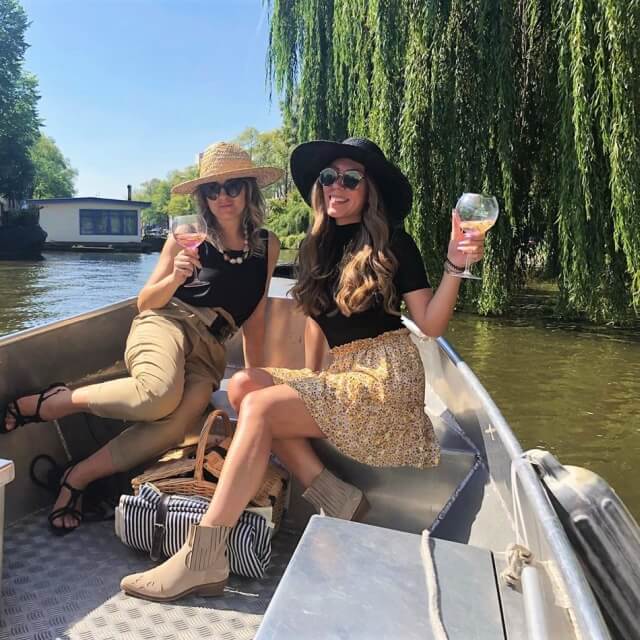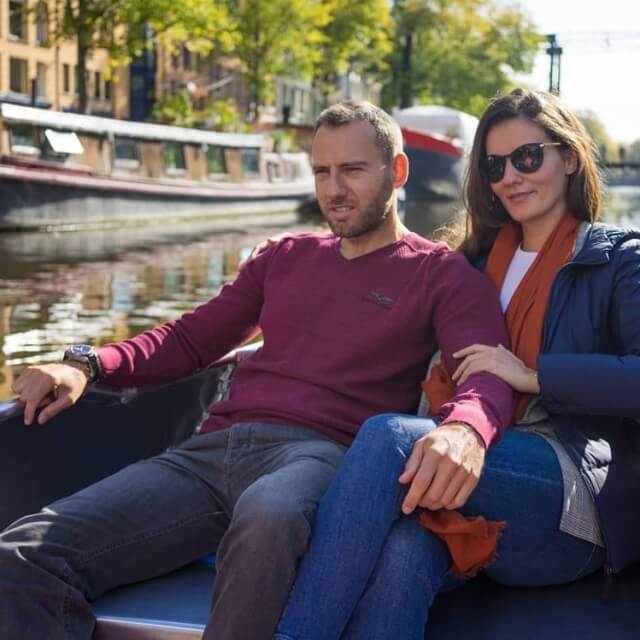 What is the best boat rental in Amsterdam?
Can you keep a little secret? Alright, we'll tell you. Boaty is the place to go to. Indeed, that's us.
That's assuming you:
* like to rent a reliable, eco-friendly and easy to handle boat;
* appreciate friendly personal service;
* don't mind getting the best rates in town.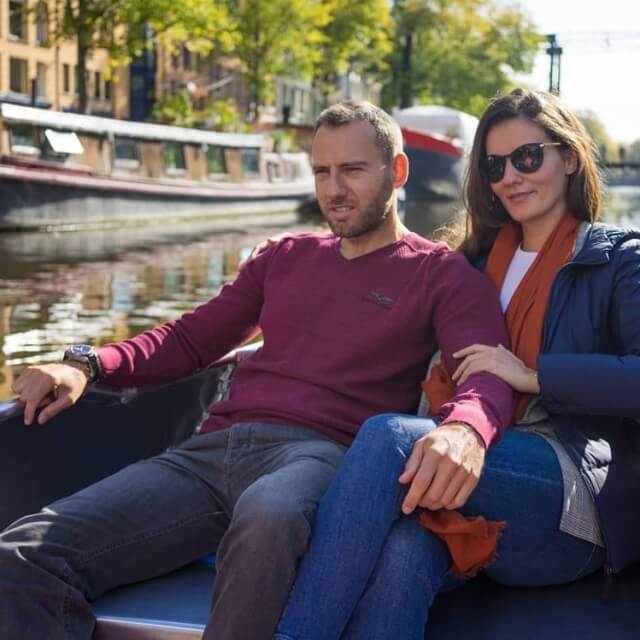 How to get to our boat rental?
You can find our boat rental at the southern side of the city centre. Don't worry about the distance to our dock if you're staying in another part of town. Although Amsterdam ranks among the most famous cities in the world, it's more of an oversized little village than a large scale metropole.
Even from the most remote parts of town you will rarely need more than half an hour to get to our boat rental, whether it be by bike, by public transport, by taxi or with your own car.
Despite a 100% budget overrun and a seven year delay, we're very happy with the new metro line 52. This provides a very quick connection between our dock and many parts of the city centre, including Central Station, and even Amsterdam-Noord.
Please check our boat rental location page for more specific information on how to get to us.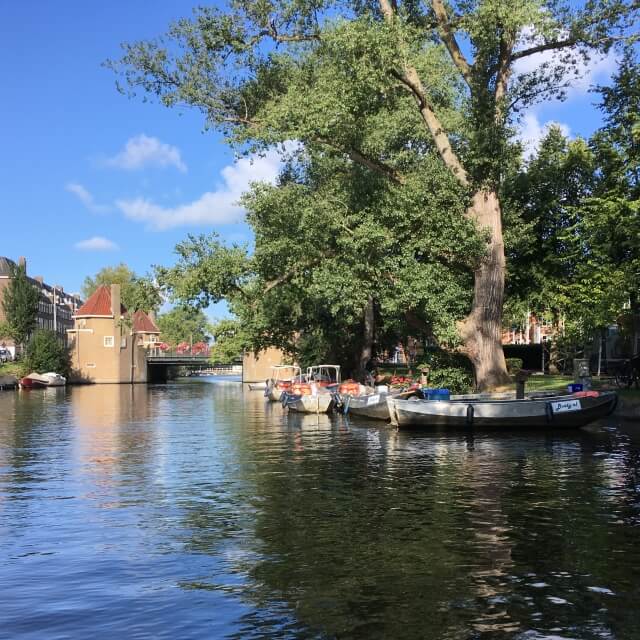 How many people can I rent a boat for?
Normally (before and after the Covid-19 pandemic), you may take up to six people on board, including yourself. That is the regular maximum allowed by our license and our insurance.
Currently, due to the pandemic the maximum group size actually depends on the composition of your group. If you're one big happy family with four kids (respect!) living in the same house, it's still allowed to be on one boat. However, for six single friends from different households you have to rent two boats in order to comply with the national Corona-rules. For more details please check our Corona-policy.
How to find my way when renting a boat in Amsterdam?
Let's start by easing you. None of our guests have ever accidentally ended up in Copenhagen, Dover or Cologne with their boat. And none of them have gotten lost forever in Amsterdam either.
If you know left from right, you'll most likely be able to navigate the Amsterdam canals by the large custom made laminated map we provide. And in case you you feel lost, there's always a device to the rescue, either Google Maps or the Boaty lost and found hotline. We'll send the helicopter over.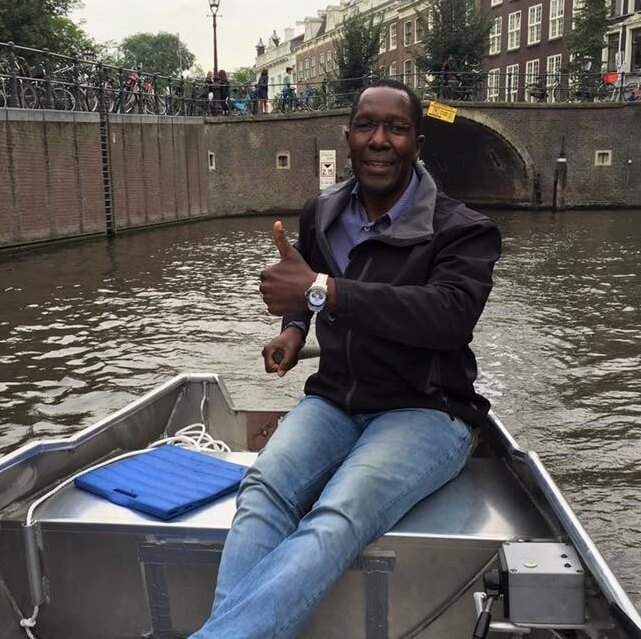 What areas to explore when you rent a boat in Amsterdam?
In our opinion every Amsterdam boat tour should consist of at least two parts:
The first no-brainer is the Amstel river. A dam in this river was the reason why around the year 1275 there was the first mention of this little start-up trading post called Amstelredam. You won't find any remains of it other than the name of the square in the heart of the city: the Dam. The river is still there, meandering from the country side south of Amsterdam into the middle of the city centre, dividing Amsterdam in an eastern and a western part. For a long time there were only few shallow places to wade through the river. The first bridge over the river was built some 350 years ago, long before the iconic Amstel Hotel was built. The most famous and most romantic bridge is the wooden Skinny Bridge a bit further to the north. Other landmarks to admire along the Amstel river are the Munt tower, Hotel l'Europe, the Stopera (town hall and opera house), the Hermitage, the Carré Theater and the former city archives. Don't expect wild swirling river full with currents, rapids or waterfalls. Although the size of the Amstel is quite impressive, it is very tame and easy to navigate.

The second no-brainer are the canals in the

World Heritage area

. The Dutch call this area the '

Grachtengordel

'. By the 17th century the little start-up of Amstelredam had developed into the most powerful and prosperous trading capital in the world, allowing for the construction of a large belt of canals surrounding the oldest part of town. The four parallel main canals are called

Singel, Herengracht, Keizersgracht

and

Prinsengracht

. You can sail all of these, gazing at the cribs of the old-day celebs.
If you rent your boat for three or four hours (or even for a full day), most likely you will have some time left to top up these two definite must-sees with some other worthwhile parts of town. Discussing all of them would definitely blow the scope of this article. And seeing all of them on a single day is a bit too ambitious too. Like travelling Europe in a week.
Some additional areas to choose from when renting a boat in Amsterdam are:
the charming Jordaan, where the canals, bridges and houses appear to be midget versions of those in the main canal belt;
the spacious Oosterdok, a large basin close to Central Station, home to the Nemo science museum, the Maritime Museum canals, the conservatory and the central library;
the relatively quiet and posh Amsterdam-South, with its Berlage architecture and its local 'Gold Coast';
the green and stately Plantagebuurt surrounding the Artis Zoo.
There's no need to bring your own map or to figure out exact itineraries beforehand. We provide a good map with route suggestions. We're happy to explain them to you before sail off. And also to advise if you wish to follow a completely different route.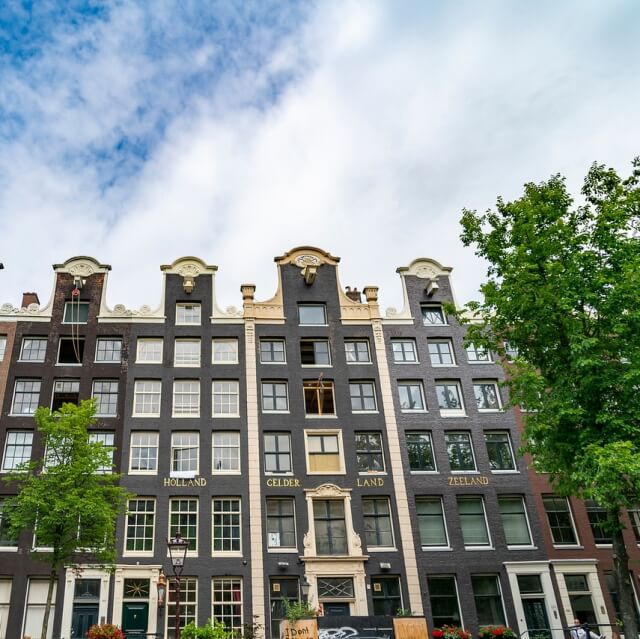 How to drive your boat on the Amsterdam canals?
In order to keep it safe and enjoyable for all, these are the most important basic rules on the Amsterdam canals:
No music. Even if you have a great taste in music, don't share it with others on or along the canals. Playing music on board could more than double the cost of your boat trip, since there is a euro 140 fine for it;
No speeding. On the Amsterdam canals even turtles could get a ticket for speeding. That's because the speed limit is just 6 km/h. On our boats you don't need to worry about that: we've set the maximum speed at about 5 km/h. So the only ones you can race are ducks and pedestrians;
Sober captain. We understand it's tempting to have a drink while relaxing on the canals. For your crew that's perfectly fine. Captains however must respect the same limit (0,05%) as car drivers. Nowadays, every Dutch supermarket has fake beer in stock;
Keep right and give way. Always drive your boat on the starboard side of the canal. Starboard means right, yes! Being British is not an excuse to do differently. The rules of way on the water are actually quite complicated. The best way to deal with this is giving right of way to all other boats, unless your charm has provoked them to explicitly give right of way to you;
One way canals and parking. If everyone else is going the other way, you're probably on one of the two one-way canals in Amsterdam. That could become dangerous and expensive. And like on the streets, you can't just park anywhere you like. So keep an eye out for traffic signs;
Good seamanship. We don't expect you to have any experience in boating. But we do expect a responsible attitude. For the safety of yourself, for your crew and for all others on the canals. Therefore, we won't let you start your trip before you've carefully listened to our instruction. We're confident you'll find ours less boring than the average airline safety briefing.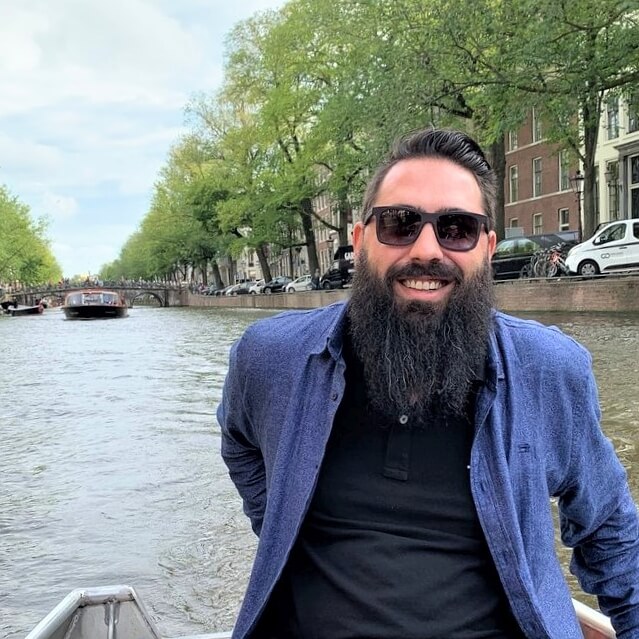 What others say about their Amsterdam boat rental
For a good impression of how enthusiastic others were about their Amsterdam boat rental with us, please read some of our 600+ guest reviews on Tripadvisor, or our 300+ guest reviews on Google. The average score on both is between 4,5 and 5 stars (on a scale of 1 to 5). We rest our case.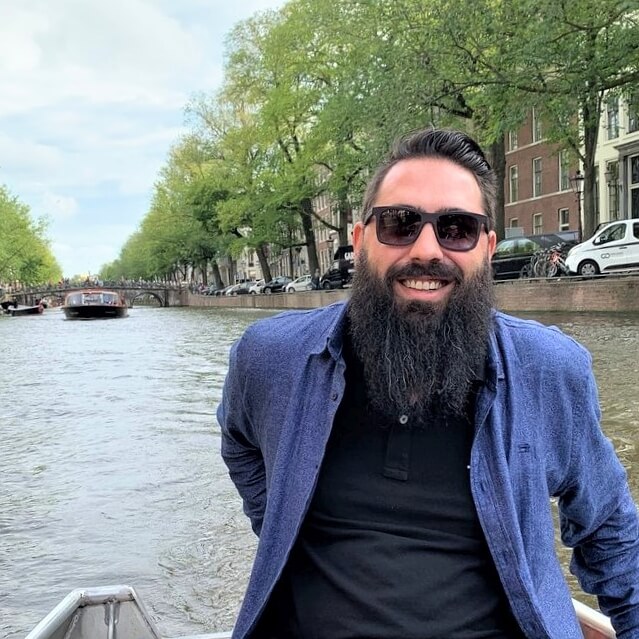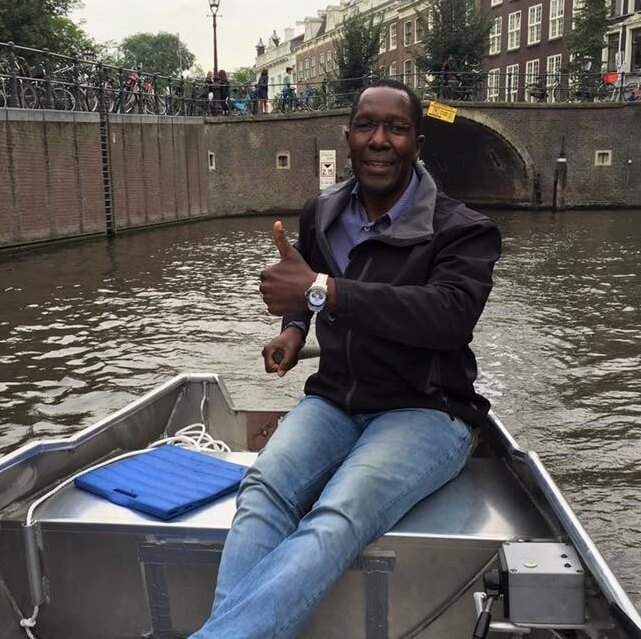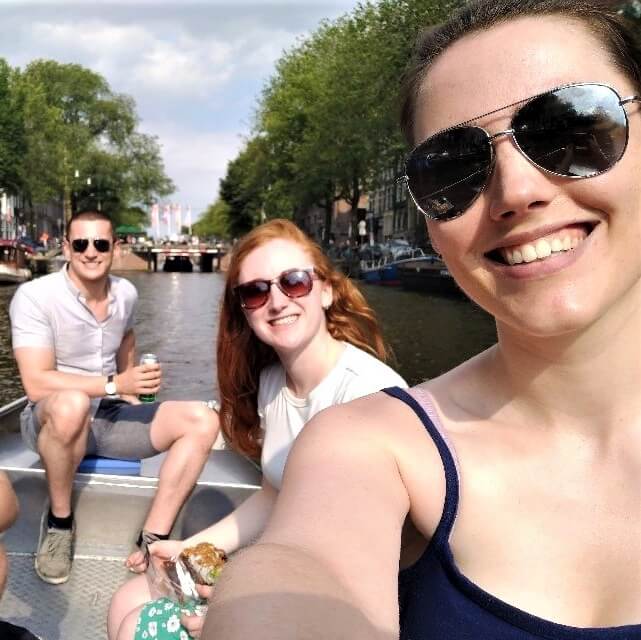 Should I book my Amsterdam boat rental in advance?
Yes! Please use our easy online booking tool for that. For two reasons it's in your own best interest to do so:
1. Outsmart other locals or tourists that decide to call us last minute for a boat rental. Only to find out that their ship has literally sailed. With you on it.
2. Give us the opportunity to prepare for your arrival. If we know you're coming, we will make sure to be at the dock to welcome you, to prepare your boat and to give you proper instructions.
Any remaining questions concerning renting a boat in Amsterdam?
We've tried our best to cover all aspects of renting a boat in Amsterdam. But a fool can ask more questions than a wise man can answer. So give it your best shot!
Feel free to use our contact form or to drop us an e-mail with any (boat rental related, please) question you want answered!